Sunday, August 28, 2005
haha hey u lazy buggers.. nobody's updated for ages.. do the juniors even know abt this blog? someone pls try to maintain this site ok?
anyway heres a shoutout to the j2s.. prelims (and the As) are almost here.. work doubly hard okay we'll make it thru somehow :))
and to the juniors.. mug like mad for promos ok.. and when its over, train like crazy :P
jamie we miss you too!
haa alrights take care folks im out!
luv, huiwen
inXTC scored a goal at 7:26 AM

vindicated.


Monday, May 16, 2005
National A Division ChampionshipsMatch : pjc guys vs rjc guysVenue : CCAB [67 direct bus from CCK Interchange. Alight after SPC]Time : 3.30pmPreview : The battling guys from the pjchockeyfederation takes on defending champions RJC in a potentially sizzling encounter tommorrow at CCAB, the stage for the grand finale match of the PJC guys season. Still reeling from the 0-1 narrow defeat at the hands of VJC, PJC will go into the match all charged up. Its a meaningless match for both teams as RJC's booth in the finals have been confirmed, while PJC has been virtually eliminated from the Adivision Group Stage. Injuries wise, PJC will be fielding a full strength. While Pravin, our forward, has reported that VanDerPut from RJC is unable to play due to Hernia. Wlove our game , and we arent going to bow down without a fight.. Let the show begin. Live from CCAB!-mfk
we scored a goal at 7:39 AM

vindicated.


Wednesday, May 11, 2005
hey im Landy, Foo Keat said i should try posting something hehe. maybe to update on wat j1s are doing? hmmm i duno...
ok shall write somethign bout the hockey training todae. todae was the day we played the longest ever game in our hockey life, as for the j1s, just for a cup of drink which cost 40 cents. but that really brought us out to fight for it. motivation helps hehe. aniway, i think everyone did well for today's game. everyone played well, though i missed lotsa shots. tension was present but was minimal. but it did help in a way or another. new stuff learnt and bad stuff rid off. hehe. had fun. hope we can play better as time goes. see ya.
come to think of it... this is quite out of point compared to the rest of the entries in this blog but nevertheless, im gonna post it. see ya.
we scored a goal at 8:19 AM

vindicated.


Saturday, May 07, 2005
pitch trainings ....
monday [ 9/5/05 ]
venue [ ntu ]
meet at [ 5.15 ] at concourse
friday [14/5/05 ]
venue [ ntu ]
time : not sure...
i think the friday pitch training will be the very [last] training that we are having together as the Pjc Hockey Team of the 2005 Batch.
:/
=
i wanna retain man
we scored a goal at 10:00 PM

vindicated.


credits to vjc for playing well.
the guys played them on friday again with a 1 goal deficit. Mr Sunil's game plan worked, and everyone was running their socks off. but however hard we tried, we couldnt claw back from being one goal down. attacking wise, we were dismal .. this time its the defence which stole the limelight with a courageous and rigid performance. vjc had a few clear cut chances, but our gk saved the day a coupla times with last second saves off the line.
its very very hard for us to advance to the semi finals now. the story doesnt ends here, but rather with an exciting grand finale with the formidable champions RJC =) which beat us 2-0 in the semi finals last year.
its going to be really tough playing the champions guys .. but i'd sae..lets not give them too much respect and play the game according to sunil's game plan..
" why are u nervous?? with nervous u can only have 1 outcome : negative. when u are confident, u can have 2 outcomes. either postive or negative!"
- quoted by the best coach in the local hockey scene .. MR SUNIL
we scored a goal at 7:02 AM

vindicated.


Friday, May 06, 2005
gurls!!!!
(1) good game with acjc on wednesday.. we fought hard and lady luck happened to be with us.. we managed to end the match with a score of 1-0, by joys thru short corner
(2) nice play with vjc today, despite them being a very strong team. final score was 3-0 to vjc.
at the same time over at ccab, acjc beat jjc by a goal.. so that puts us at second on the table after vjc, which means... yes :) we're into semi-finals!
19th may 05
3pm at delta
versus rjc
gers we'll do our very best ok!
inXTC scored a goal at 8:10 AM

vindicated.


Tuesday, May 03, 2005
cheers for e great game today
pjc 2 tjc 0
so far its 9 goals out of 3 matches..thats awesome for us, considering the fact tt goals were really really hard to come by before the adiv started..with a string of 0-0 draws against jjc njc etc..
here are some stats....
out of the 9 goals scored in 3 matches
4 goals were scored via Short Corner.
out of the 4 goals scored via Short Corners
3 were scored via C .. ( ben and shah sweeping ) ..GREAT work u two! keep up the gd work and we shall sweep vjc and rjc off their feet..pun intended..okok not funny..
the remaining five goals were scored via Open Play
2 were smashed in from close range, while the other 2 were shots from top D.
we have no players booked with a Yellow Card yet .. fair play ! =)
but we have 1 player booked with a Green Card n tts me..
and this is the most interesting stats for all to see
out of the 180 (3x60) minutes of Adivision Matches so far, we have conceded a total of zero goals. KEEP up the good work defenders! and of cus credit goes to our gk as well.
our current situation is still rather precarious.
route 1 to the finals :::: draw with both vjc and rjc, and we are thru.
route 2 to the finals :::: win vjc on thurs and we are thru. we can lose to rjc and still advance.
route 3 to the finals :::: just pray tt YJ..(yes...yishun jc) draw or win ( LOL ) vjc and we just have to draw with vjc to qualify.
we have did whats expected of us already by disposing yjc tpjc tjc .. but vjc and rjc are no normal teams. we have to put our 200% effort. theres no such thing as first teamer here, everyone makes the team. lets gif it our all on thursday
we scored a goal at 4:53 AM

vindicated.


Saturday, April 30, 2005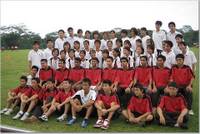 PJC HOCKEY 2005. arent we one big family? :)
inXTC scored a goal at 5:15 AM

vindicated.